Boosting Subscriber NPS with Proactive Care
25%
That is the median percentage of broadband subscribers calling into customer care for Wi-Fi coverage issues. A 2022 investigation by the Lifemote Network's Research and Customer Success teams across anonymized aggregate data from more than 1 million CPEs revealed this shocking statistic. Shocking, especially considering that the typical ISP spending on newer modern CPE hardware post-COVID has only increased manifold in the last 18 to 24 months. 
What does this alarming volume of calls for poor Wi-Fi coverage mean for ISPs? For one, it directly correlated to a sharp reduction in subscriber NPS and long-term subscriber churn. Despite the immense capital expenditure in CPE spend, infrastructure investments in Gbps speeds, and tremendous bandwidth opportunities that newer technologies like Wi-Fi 6 offer, what are Internet Service Providers (ISPs) missing? 
To unravel the missing piece in the care puzzle, let's first understand how care is typically managed from an ISP perspective for the in-home Wi-Fi population. 
The Different Levels in the ISP Care Spectrum 
The typical care experience post-installation from an ISP has been to deploy a call center with first line and second line support, with the option to deploy truck rolls on a case-to-case basis. With deeply technical issues like Wi-Fi coverage, the burden of solving the problem typically begins with a reactive call from the subscriber calling in with a complaint and eventually gets routed to the more technically empowered L2 support team. A protracted phone investigation follows without much success, and it is usually a truck roll field team that troubleshoots and resolves the issue in person at the subscriber site. There might also be several scenarios where the CPE might be replaced to solve a customer complaint, but is often brought into the warehouse only to find it is a no-defect-found (NDF) device, leading to wasted spend.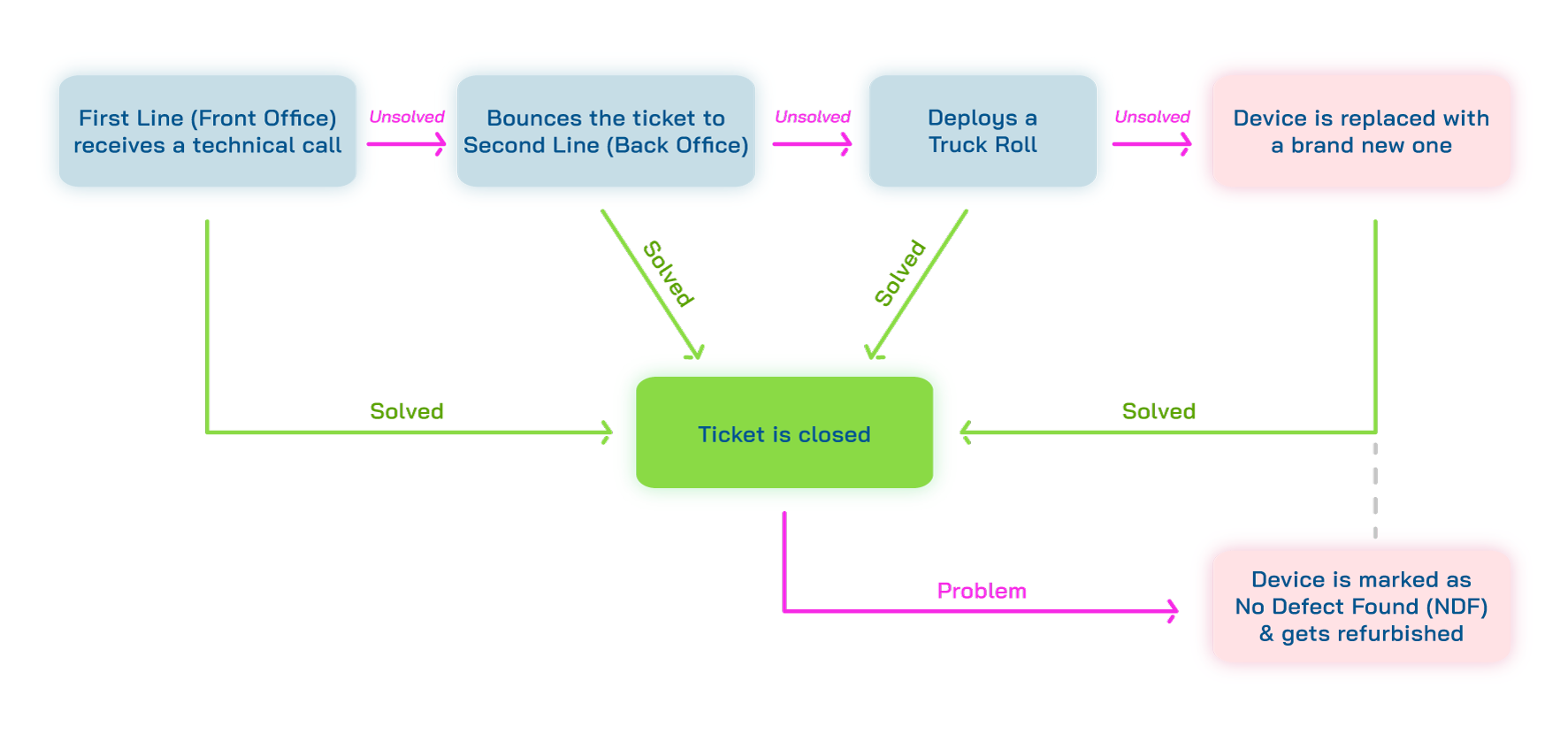 The problem with this approach is that it is unsustainable as the ISP subscriber population grows. The ISP can no longer justify the innumerable truck rolls that add up over time, eating into operational costs. In addition, it cannot provide its customer care team with the much-needed teeth to bite into the Wi-Fi coverage problem. 
So what options does an ISP have to solve this cost-information-success trilemma? There might be an optimal solution in sight: Wi-Fi Assurance. 
What is Wi-Fi Assurance?
In simple terms, Wi-Fi assurance is the ability of an ISP to provide detailed insights about its subscriber Wi-Fi coverage health, not just for individual subscribers but across the subscriber population. These insights come from its ability to collect pertinent data from the population's subscribed CPE base, analyze the data to correlate to subscriber Quality of Experience (QoE) metrics, and then be able to make this analysis readily available to its customer care team. 
Ultimately, the data and insights available to the customer care team will only be relevant if they are actionable for them and their subscribers. So let's understand how a Wi-Fi assurance solution enables the ISP customer care team to deliver care effectively, with an easy example.
Diana is a businesswoman who recently got a new Wi-Fi router installed by her ISP. She observed that it sticks out like a sore thumb in her study, so she moved it behind the TV. Unfortunately, the CPE movement now blocks signals for most clients to connect to Wi-Fi. Diana has been trying to put up with poor speeds for the last two weeks, but she had to cut her video call short since her laptop kept dropping her connection. Frustrated with her current network situation, she calls customer care.
Reactive Care Scenario
When Diana calls in, the L1 agent Hanna, can now understand their root cause. CPE placement has been an issue, thanks to the Wi-Fi assurance solution indicating that the CPE placement is an issue. This insight helps Hanna save her field team a truck roll visit for such simple scenarios and improve her first call resolution timelines. Diana is happy to work with Hanna to improve her in-home Wi-Fi placement. 
Suppose the call needs a further technical investigation. In that case, advanced level analytics available to 2nd line or L2 technicians can reveal other congestion issues due to inefficient band or channel selection. With a Wi-Fi assurance solution, the 1st and 2nd line agents and technicians can effectively address such recurring calls to the call center, thus improving long-term subscriber satisfaction and NPS score. 
This reactive care scenario seems like a massive relief to ISPs, but true Wi-Fi assurance solutions can unlock more secrets to improving your subscriber NPS. One of the main benefits that come with deeper data insights into entire CPE populations is Proactive Care.
Proactive Care Scenario
Wi-Fi assurance solutions can provide visibility not just into individual CPE instances but across the entire deployed population of CPEs for a given site. With real-time data being instrumented from the entire CPE population, an ISP could track critical KPIs over sustained periods. For example, with population-level data available, a comprehensive Wi-Fi assurance solution can proactively detect poor coverage households by tracking weekly QoE metrics and alert the care team about scenarios like those Diana encountered before she called in. The care team can then proactively contact Diana and help her improve her in-home Wi-Fi coverage before she calls customer service. With the ability to interpret population-level CPE data and provide best-in-class Proactive support, support center agents are thus able to improve their support KPIs. ISP leadership can also keep support costs in check with the ability to reduce call volume and improve subscriber NPS simultaneously. 
While this approach might sound like the silver bullet for an ISP's care issues, there could be a more elegant proactive solution waiting in the wings with the right Wi-Fi assurance provider: Self-Care.
Self-Care Scenario
What's better than providing proactive care for an ISP? Enabling its subscriber base to take care of themselves. 
With the right level of insights provided by a Wi-Fi assurance platform, ISPs can now offer their subscriber base the ability to manage their CPE deployed independently. With an ever-rising clientele choosing to work from home and more clients on for an in-home Wi-Fi setup, technologically savvy subscribers would choose to be able to solve their broadband issues by themselves than spend their time over a long phone call with customer support. 
In addition, ISPs would find the ability to provide subscribers with proactive care recommendations a significant relief to their customer care centers. With the right CPE insights, ISPs would proactively provide care suggestions to subscribers to resolve issues with a self-care web portal before contacting the care team, thus reducing overall care volume. 
Wi-Fi Assurance: Unlock Value with Lifemote Networks
The right Wi-Fi assurance solution can unlock immense benefits for an ISP care organization over the long term. CPE upgrades, infrastructure investments, and newer protocols might not always be a sustainable solution for ISPs, compared to optimizing an existing subscriber population's deployed base for optimal bandwidth and coverage. However, if an ISP care team can truly investigate a subscriber's in-home Wifi issues remotely with the correct data and insights without the need to upsell any expensive hardware, they would be able to build the trust and credibility that drives subscriber loyalty and NPS in the long run. All these benefits can be realized, while improving core KPIs for the ISP like average handling time and reduction in truck rolls.
Lifemote Networks is the platform that can enable all these care scenarios mentioned above. As an ISP, Lifemote Networks can be the true differentiator for your care team to understand the possibilities a truly comprehensive Wi-Fi assurance platform can provide in reactive and proactive care. In addition, Lifemote also provides the underlying tooling for your ISP to build a self-care alternative, which can truly put the power of managing a deployed CPE base in the hands of your subscribers.
Experience how proactive care with the right Wi-Fi assurance platform could look like – Schedule a demo with Lifemote Networks today.
About the Authors: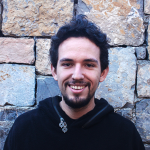 Zafer Meriç
Strategic Sales Coordinator
zafer.meric@lifemote.com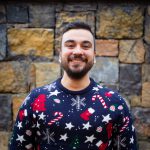 Mertkan Koca
Customer Success Manager
mertkan.koca@lifemote.com