How Can Lifemote Improve Your ISP Success Metrics?
You will relate to this scenario well if you have witnessed an ISP support team floor huddle.
Friday evening time.
A major international soccer team match is underway.
The support team's dashboard lighting up with significant complaints of intermittent Wi-Fi connectivity issues.
Every support team member on call resorting eventually to truck rolls onsite to troubleshoot.
Yet, when the week is over, despite many CPE replacements and truck roll visits, the connectivity issues come back to haunt the team once a similar Wi-Fi-intensive online sports event comes around.
There must be a better way for ISPs to approach and pre-emptively resolve post-purchase Wi-Fi support issues. The solution? To have an experience-first metrics-driven approach to providing care. This article explores the metrics that move the needle for truly proactive care for an ISP and how comprehensive Wi-Fi analytics platforms are needed to enable ISP support teams for success.
ISP Success Metrics: How They Impact Care
Before we dive deep into the different success metrics that influence the performance of an ISP care team, let's illustrate how a typical care query follows the support path through various ISP teams.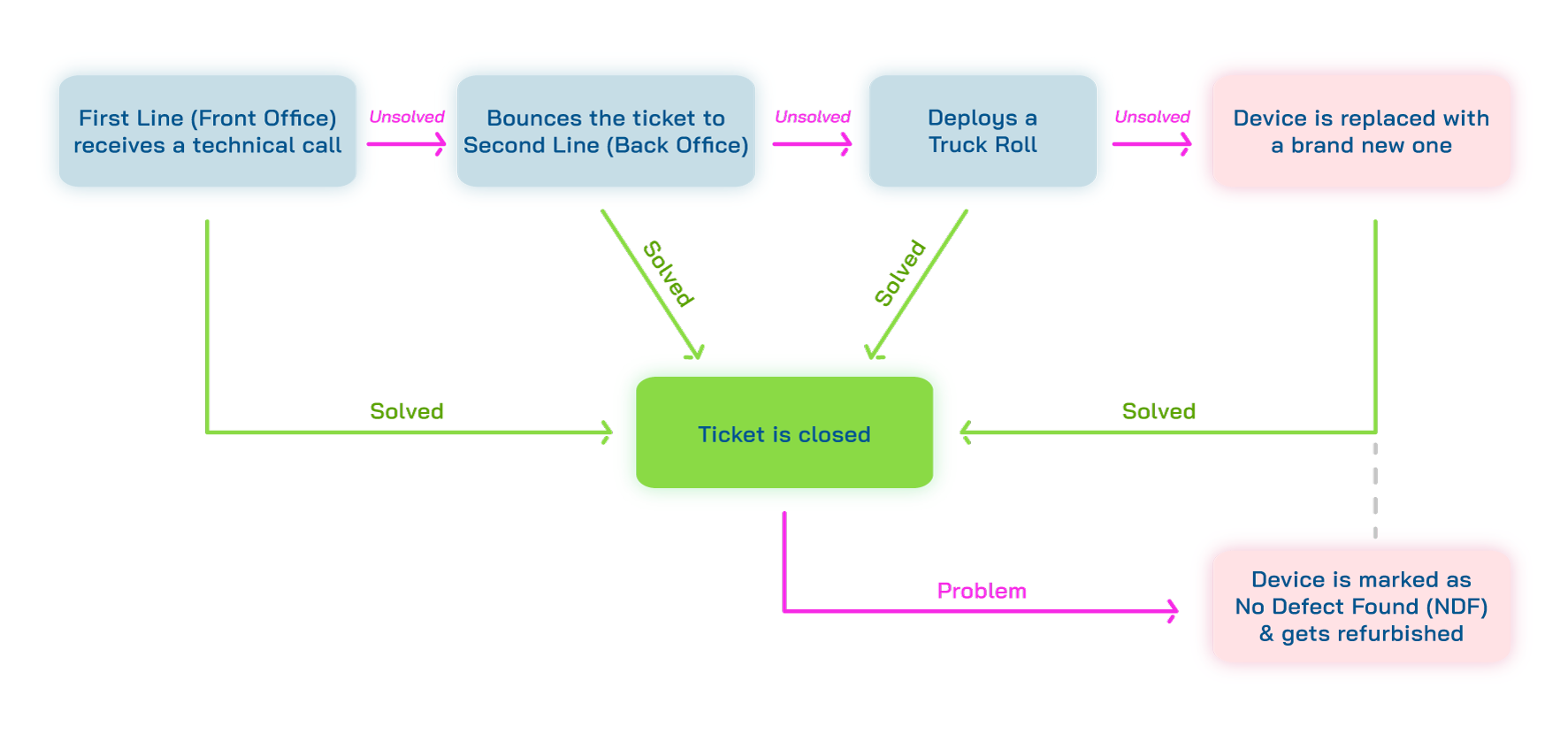 As you observe, there are several hoops a customer is compelled to experience for resolving Wi-Fi issues, from first-line support, escalating to second-line support for advanced troubleshooting, leading to a truck roll, and ending in CPE device replacement and refurbishment. All these affect the critical KPI metrics in an ISP care organization. Let's understand some of these metrics below.
First Call Resolution (FCR)
The first call resolution refers to the number of occurrences in which first-line support can resolve a support call on the first call itself. In the scenario described above, first-line support teams do not have the right Wi-Fi data insights or are not technically proficient enough to resolve the query themselves. They eventually get escalated to second-line support for more investigation.
With the lack of the proper CPE or population insights, even second-line support teams have to play the guessing game on the coverage or performance issue at hand. As a result, these calls tend to go longer than the first-line support calls but result in an onsite truck roll dispatch since the second-line support teams also do not have the right insights to troubleshoot Wi-Fi issues remotely, leading us to the following metric: Average Handling Time.
Average Handling Time (AHT)
Average Handling Time typically refers to the time it takes a support agent over the phone to resolve a particular issue. In the scenario described above, the average handling time (AHT) is a protracted timeline, with the support team's ability to troubleshoot CPE issues remotely curtailed by the lack of insights. The support call eventually closes at the customer's end with a truck roll call with an onsite troubleshooting team and the customer CPE getting replaced. So although by the book, the AHT metrics is limited to the time spent on the phone, the actual time to resolve an issue has already been extended to multiple hours or days by then.
No-Defect Found (NDF) CPE rate
But the ISP team's troubles have not ended at that point. Once the CPE gets replaced with a new one at the customer's end, the existing one is returned to the warehouse, where the hardware team inspects the CPE for issues. The team usually finds no fault with the CPE, but since it is a returned product, they have to mark the CPE as No-Defect-Found (NDF) and refurbish it for subsequent use. The rate of such devices returned to the warehouse with no apparent issues is the NDF CPE rate. A high NDF CPE rate is an early warning signal to the ISP care team that the support issues being reported are deeper than a CPE replacement could resolve. The support team realizes they are only a short while away until the same customer comes calling for similar issues to the support team, following the same vicious cycle leading to a truck roll incident, thus increasing the Truck Roll volume, known as the 'Increase in Truck Rolls' metric.
Are these the only metrics that the ISP care team gets anxious about? These metrics, if not acted upon on a timely basis, lead to the quarterly discussion on KPIs that every ISP leadership meeting starts with:
Net Promoter Scores/Customer Satisfaction Ratings
The subsequent increase in customer call volume eventually leads to frustrated ISP customers reporting critical post-call satisfaction feedback. The feedback is usually an NPS score, typically collected during call resolution. Unfortunately, since the AHT metric continues to get higher with an increasingly extended timeline, the care team's NPS scores keep going lower each month.
Customer Churn Rate
With no quicker resolution and no alternative other than calling for a truck roll, ISP care teams slowly see customers leaving the ISP due to their frustration with a poor post-sales customer care experience. The rate at which customers churn from an ISP's customer base is tracked as the Customer Churn Rate metric – a metric that ISP leadership gets sleepless about before going into a quarterly metrics review meeting.
How comprehensive Wi-Fi analytics improve these success metrics
Fortunately, there is light at the end of the tunnel for ISP care teams looking for a solution to improve these customer success metrics through comprehensive Wi-Fi analytics. Deployed effectively, CPE-level and population-level Wi-Fi data insights, coupled with ease of use, can help all team members within an ISP care organization perform their roles better and improve each metric.
First-line agents can improve First Call Resolution (FCR) by providing better reactive care using simple, actionable insights.
Second-line agents can look at detailed technical information like RSSI, PHY Rate, Airtime usage, and population-level insights to investigate and resolve more customer issues remotely without visiting the customer premises. The newly found capabilities that second-line agents have lead to a dramatic decrease in Average Handling Time (AHT) and Truck Rolls. Second Line Agents also understand the genuine issue ailing a customer and do not have to dispatch a truck roll to replace a perfectly functioning CPE, thus resulting in a decrease in refurbishments or No-Defect Found (NDF) products.
All these metrics virtuously impact the customer support experience and lead to a gradual increase in NPS scores and lower customer churn. But do such Wi-Fi analytics platforms, which can dramatically improve the way ISP care teams truly exist today?
The Lifemote domain advantage to improve success metrics
Yes, one such metrics-first Wi-Fi data platform exists: Lifemote. Lifemote Networks provide a comprehensive solution to improve customer success metrics with a unique blend of three aspects.
Lightweight device-independent agent
The Lifemote advantage begins with a lightweight TR069-compatible data collection agent, which requires a simple TR-069 command to download the agent, compatible across a wide range of CPEs. Once downloaded, the agent allows an ISP care team to collect detailed minute-level data across various metrics, such as RSSI, PHY rate, and airtime usage, without incurring any performance overhead.
Extensive Domain Expertise Built-In for Cutting-edge Analysis
Thanks to the deeper granularity and frequency of data collected, Lifemote enables care teams to troubleshoot effectively and drastically cut down the investigation and resolution times. Customers have reported that they can see a 30% reduction in non-FCR and AHT with Lifemote's advanced data analytics platform.
Unparalleled network expertise, coupled with ease of use
ISP care teams might not have the right tools to help customers, even if they had detailed data collection from individual CPEs or the entire CPE population. This is where Lifemote's network domain expertise comes into play, with a robust metrics-first foundation to care and an intuitive interface designed for the first-line and second-line support agents to improve AHT times across the support lifecycle. Furthermore, you get access to a world-class team of experts, who can help you find inefficiencies with your support workflows to optimize your care scenarios effectively with the Lifemote platform.
What sets apart Lifemote's approach to data collection is the extensive network domain experience built into the platform. As a result, all the data collected might not be fruitful if the ISP support team continues to struggle to improve their average handling times (AHT) and improve customer NPS scores. Fortunately, the data is augmented with deep domain experience and machine learning models, which continue to learn from individual CPE performance and across the entire CPE population for a given ISP. This blend of data with insights provides the foundation for investigating detailed support scenarios like client over roams, band steering analytics, and greedy client detection. In addition, Lifemote's analytical dashboard can provide an intuitive interface designed for first-line and second-line support agents to investigate critical in-home Wi-Fi issues faster, thus reducing the overall AHT times across the support lifecycle.
Increase your customer success metrics with Lifemote Networks
Lifemote's Wi-Fi data analytics capabilities have helped customers improve their NPS scores and reduce their customer churn rates by up to 65%. Bringing visibility to these metrics from a QoE perspective to improve ISP care operations has helped Lifemote's customers not just provide effective reactive care capabilities but also helped them increase customer loyalty to providing proactive care and self-care capabilities, thus engaging customers before they raise an issue and turning them into promoters of the ISP brand.
To experience the difference that a metrics-first Wi-Fi analytics platform can make to your support team, book a demo with Lifemote Networks today.
About the Author: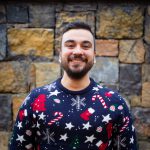 Mertkan Koca
Customer Success Manager
mertkan.koca@lifemote.com